South Carolina PHA "Irregular"???
Q: IF THE NATIONAL GRAND LODGE OF FREE & ACCEPTED ANCIENT YORK MASONS ARE "IRREGULAR" DOES THAT MAKE THE MOST WORSHIPFUL PRINCE HALL GRAND LODGE OF SOUTH CAROLINA "IRREGULAR" TOO???
Whenever one of our brothers, whom happens to be a member of a Lodge under a Prince Hall Affiliated Grand Lodge (PHA) speaks ill will of a Prince Hall Origin (PHO)Mason tne argument is:
Your GL must be established by three regular lodges and if can't tell which three Lodges established your Grand Lodge, then your Grand Lodge is illegitimate.
This leads us to the interesting history as published on the website of the Most Worshipful Prince Hall Grand Lodge of South Carolina which reads as follows:
"This great body of Masons had humble beginnings back in 1868 when it was organized as The Most Worshipful Grand Lodge of Free and Accepted Ancient York Masons of the State of South Carolina. George E. Johnson was the First Grand Master. It was in 1872 that George E. Johnson, WM H. Birney, T.B. Maxwell, WM B. Nash, B.A. Boseman Jr., H.J. Maxwell H.E. Hayne. WM Ingliss Jr., W.C. Young, H.L. Bell, R. B. Elliott, R.E. Bereef, J. A. Bowley, R.H. Gleaves, W.H. Jones Jr., petitioned the State of South Carolina to incorporate the Grand Lodge and the subordinate Lodges under its jurisdiction. The Secretary of State F.L. Cardozo, granted the petition and signed the charter on the 9th day of March,1872.
The second Grand Master was Robert B. Elliott. The Grand Lodge continued to grow and prosper in members, subordinate lodges and finances. Washington Street, Columbia. The first Grand Lodge session was held in the new home in 1910.
In 1945, J. S. Stanback, Most Worshipful Grand Master and J.E. Dickson, The Rite Worshipful Grand Secretary, having been duly authorized by resolution adopted by the Grand Lodge in session appeared before the Secretary of State
W.P. Blackwell, to petition "Amendment of the Charter" to change the name from THE MOST WORSHIPFUL GRAND LODGE OF FREE AND ACCEPTED ANCIENT YORK MASONS OF THE STATE OF SOUTH CAROLINA to THE MOST WORSHIPFUL PRINCE HALL GRAND LODGE OF REE AND ACCEPTED MASONS OF THE STATE OF SOUTH CAROLINA. The petition was granted and became effective the 22nd day of March, 1945."
(SOURCE: www.mwphglsc.com/history.html)
The Most Worshipful Prince Hall Grand Lodge has no documented proof of the Lodges which established their Grand Lodge. The only documentation of the establishment of their Grand Lodge is from the Most Worshipful National Grand Lodge of Free & Accepted Ancient York Masons Prince Hall Origin – National Compact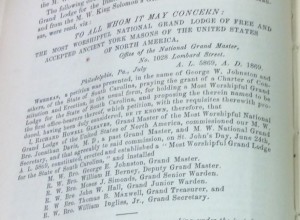 (SOURCE: 1869 Proceedings of the Grand Lodge of Pennsylvania F&AAYM)